Net satisfaction with President Rodrigo Duterte's performance reached a record-high after his first year in office, results of the latest Social Weather Stations survey revealed Friday.
The June 23-26 survey showed 78 percent of Filipinos were satisfied with the President's performance compared to 12 percent dissatisfied and 10 percent undecided. This resulted to a net satisfaction rating of +66, marking a new personal record high for Duterte.
The President got a net satisfaction rating of +63 (75% satisfied against 12% dissatisfied) last March.
Results of the survey were first published in BusinessWorld.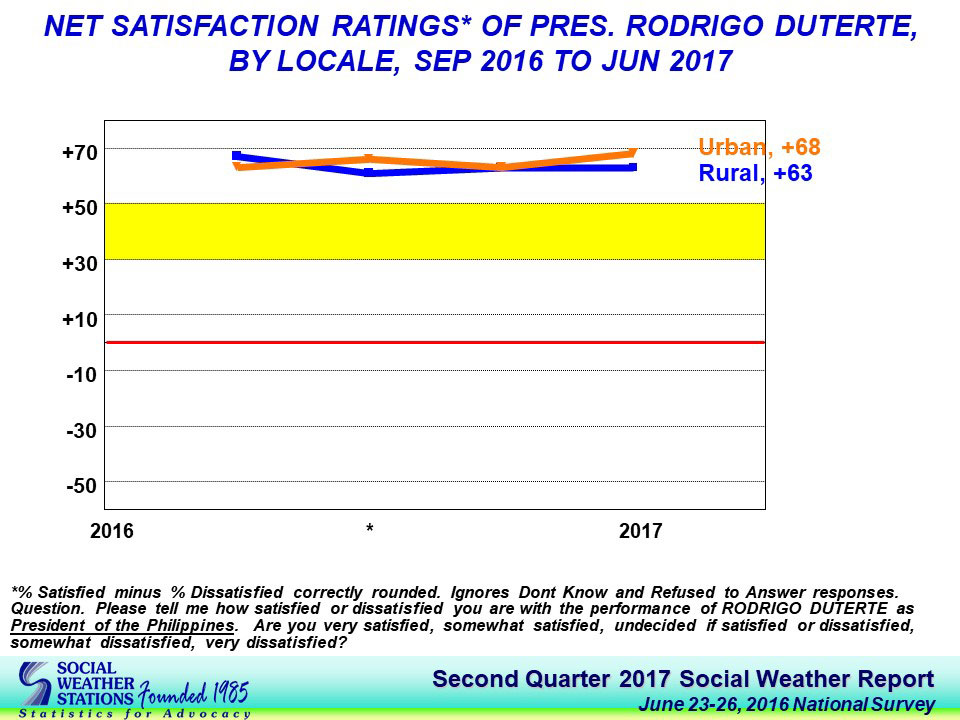 A total of 1,200 adults nationwide were interviewed for the survey. The survey has sampling error margins of ±3 points for national percentages, as well as ±6 points each for Metro Manila, Balance Luzon, the Visayas and Mindanao.
SWS said the new peak rating was buoyed by increases in the Visayas and Luzon areas outside Metro Manila that offset a sharp drop in his bailiwick, Mindanao, which nevertheless kept the best score.
The President's net satisfaction rating rose by one grade and 11 points to an "excellent" +73 (83% satisfied, 10% dissatisfied) in the Visayas, from +62 (75% satisfied, 12% dissatisfied, rounded off) in March.
It stayed "very good" in "Balance Luzon", rising seven points to +58 from +51.
Net rating in Mindanao dropped 12 points -- although it stayed "excellent" -- to +75 (83% satisfied, 8% dissatisfied) from +87 (89% satisfied, 3% dissatisfied, rounded off).
It stayed "very good" in Metro Manila, "hardly moving" at +63 from +64.
BusinessWorld reported Duterte's net satisfaction rating remained
"very good" across socioeconomic classes. It was highest among class E respondents at +67, up seven points from the first quarter's +60.
Net satisfaction also rose to +59 among ABC respondents, edging up just three points from +56 and +66 in class D from +64.
In a statement, Presidential Spokesperson Ernesto Abella said the latest SWS rating showed "tacit public support for the President's action following the rebellion in Marawi."
The Supreme Court earlier upheld President Rodrigo Duterte's Proclamation No. 216 declaring martial law and suspending the privilege of the writ of habeas corpus in the entire southern Philippine region of Mindanao
SOURCE:
YOUTUBE